by Anna Randal
Marina Abramović is no doubt one of the most influential artists of the 20th and the 21st century. And as an influential artists she has inspired artist in both positive and negative ways.
One of these artists is Brooklyn-based painter, Lisa Levy and we have to say, the influence is really there. The conceptual artist will sit, fully nude, on a toilet in a performance titled The Artist is Humbly Present. Yup, that's right! Levy will be s(h)itting for two days in a row at Bushwick's Christopher Stout Gallery, on the 30th and the 31st of January.
The work comments on the famous performance The Artist is Present, and the reference is pretty obvious, but the reasons why she chose to sit on a porcelain toilet in front of strangers are not. As she explained to artnet, she was "fed up with the art world and all of the pretense."
"[A] lot of the art world is so connected with status and money and physical appearance, things like that," she says. "It's gotten really far away from what's important. I was a huge fan of her up until the MoMA show. It's her values that bother me. She's so vain and so concerned with such superficial things."
Levy knows that her intervention will be criticized but her biggest weapon towards that, is her vulnerability. After all, she is the one to really expose herself to the visitors. Across from Levy's toilet, a second one will be placed for visitors to sit on and interact with the artist.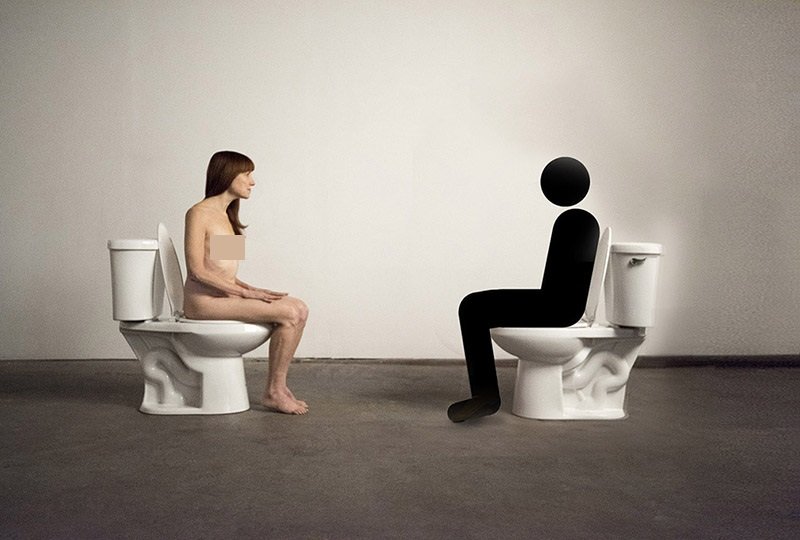 Lisa Levy – The Artist is Humbly Present (censored view)
Image: Courtesy of the gallery.