Jonathan Stone for Art-Sheep
Salvador Dali and Federico Garcia Lorca met in Madrid, in 1923. Along with Luis Buñuel and Pepín Bello, they formed a strong friendship during their student years, living at the Residencia de Estudiantes. The relationship between Dali and Lorca though, has been strongly rumored to be something more than just friendship.
It all began when Lorca first saw Dali, and was amazed by his unconventional style of dress, while Dali saw the "poetic phenomenon" Lorca was. Their relationship lasted, with all its ups and downs, until Lorca's assassination in 1936.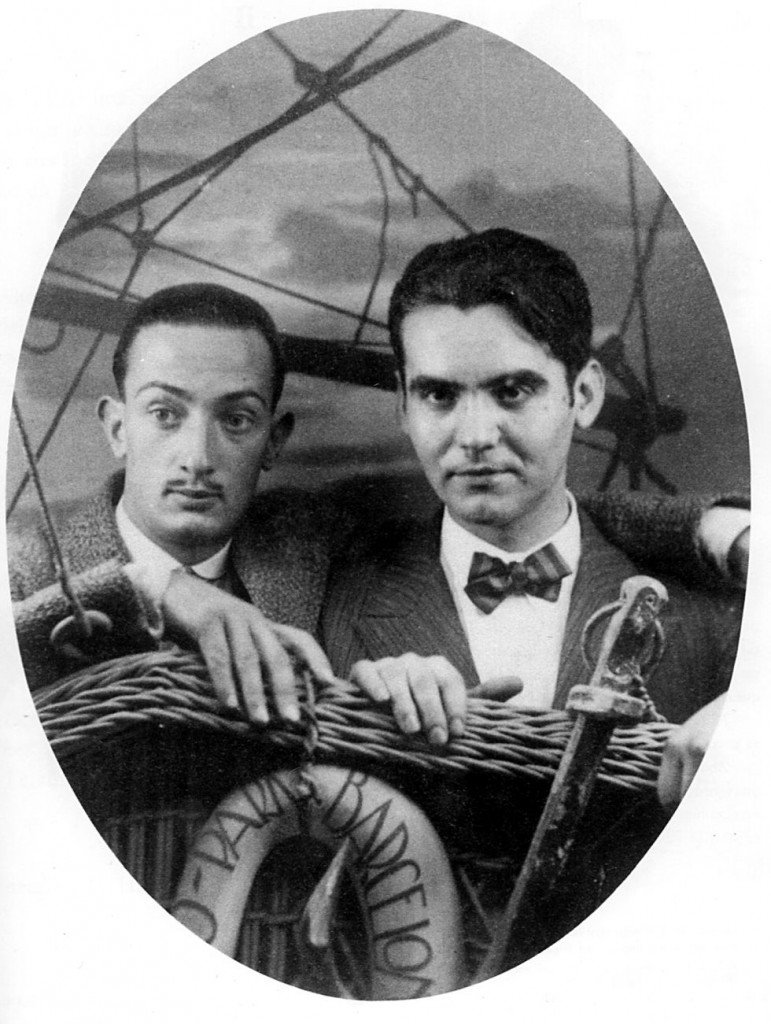 "You are a Christian storm and you are in need of some of my paganism […] I will go get you and give you some seaside medicine. It will be winter and we will light a fire. The poor beasts will be trembling with the cold. You will recall that you are an inventor of marvelous things and we will live together with a portrait machine…" Dali wrote to Lorca in a 1928 letter.
This and many more letters the two legendary artists exchanged, have been gathered by journalist Víctor Fernández. In these letters there are intense notions of love, passion and respect, while according to the journalist, this correspondence is a game of seduction. "Lorca is giving the best of himself, using his words to try to win over Dalí, who in turn wants to be at the same intellectual level as the poet. One is trying to catch the artist in his spider's web, the other lets it happen up to a certain point."
Dali often hinted on his connection to Lorca. In a vulgar interview with Max Aub, he mentioned that in 1927 he was a voyeur at a sexual encounter Lorca had with a young woman named Margarita Manso. During the following years the two Spanish legends kept in touch, but Dali never gave in Lorca's attempts to change the nature of their relationship. In a later interview, Dali denied that their relationship ever became physical. "He was homosexual, as everyone knows, and madly in love with me," he said, according to Alain Bosquet's 1969 Conversations with Dali. "He tried to screw me twice… I was extremely annoyed, because I wasn't homosexual, and I wasn't interested in giving in. Besides, it hurts. So nothing came of it. But I felt awfully flattered vis-à-vis the prestige. Deep down I felt that he was a great poet and that I owe him a tiny bit of the Divine Dali's asshole."
After Gala's, Dali's wife, death in 1989, the legend of surrealism kept to himself and stopped eating. Near the end, while he was being treated at the hospital due to heart failure, one of the nurses that cared for him caught him say the words, "My friend Lorca."
Salvador Dalí and Federico García Lorca, 1925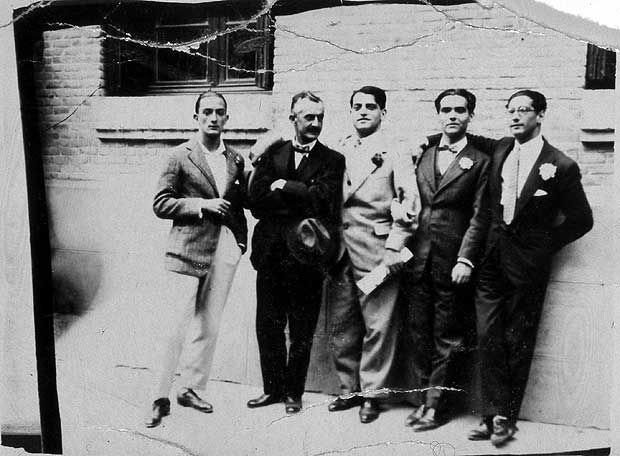 Salvador Dalí, Jose Moreno Villa, Luis Buñuel, Federico Garcia Lorca, Jose Antonio Rubio, Madrid, 1926

Cães Andaluzes: Salvador Dalí, Federico García Lorca and Jose "Pepin" Bello, 1926