Craig Davies for Art-Sheep
Are you one of those people whose world is seriously shaken when they discover interesting incidents and bizarre connections of the past? Well if the answer is yes, prepare to be shocked as you probably didn't know that long time ago, a young Michael Jackson went to Jamaica, to chill with Bob Marley.
Jackson and the rest of The Jackson 5 visited Marley in March of 1875, at his house in Jamaica. The Jackson 5 had been booked by Marley to open for Bob Marley & The Wailers at the National Heroes Stadium, before the start of their Natty Dread Tour.
Check out the photos below and enjoy young Michael and the rest of Jackson 5 owning it in Jamaica.
via feelnumb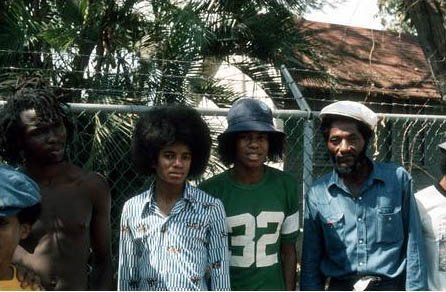 Michael Jackson, Bunny Wailer and Jackie Jackson
Katherine Jackson and Bob Marley