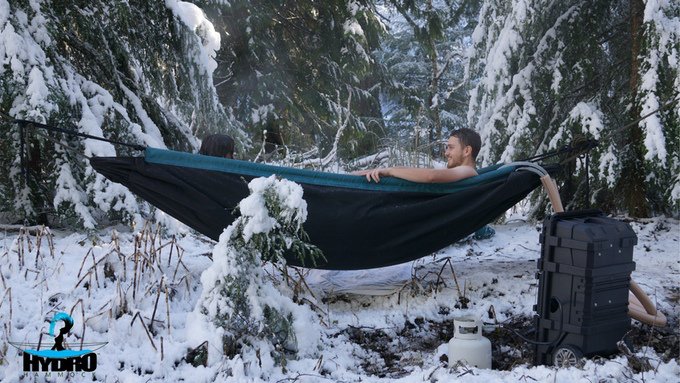 Samuel Masters for Art-Sheep
Who doesn't like hammocks, right? And who doesn't like hot tubs? But what happens when the two are combined? The answer is: sheer heaven or as innovator Benjamin H Frederick likes to call it, "The Hydro Hammock". This unique invention is exactly what its name very straightforwardly declares a hammock, also functioning as a hot tub, as well as a portable hot tub liner for sand or snow and a little swinging pool.
The hammock's water heater system uses water taken either from a garden hose, a stream or a lake and can also function as an outdoor shower. All these, along with a very convenient rolling suitcase for storage and transportation, as well as its eco-friendly design and  chemical-free water, make it overall a fantastic creation, that has already reached its $50,000 goal in Kickstarter, with $77,097 pledges so far, 150 backers and 66 hours remaining until the end of Frederick's campaign.