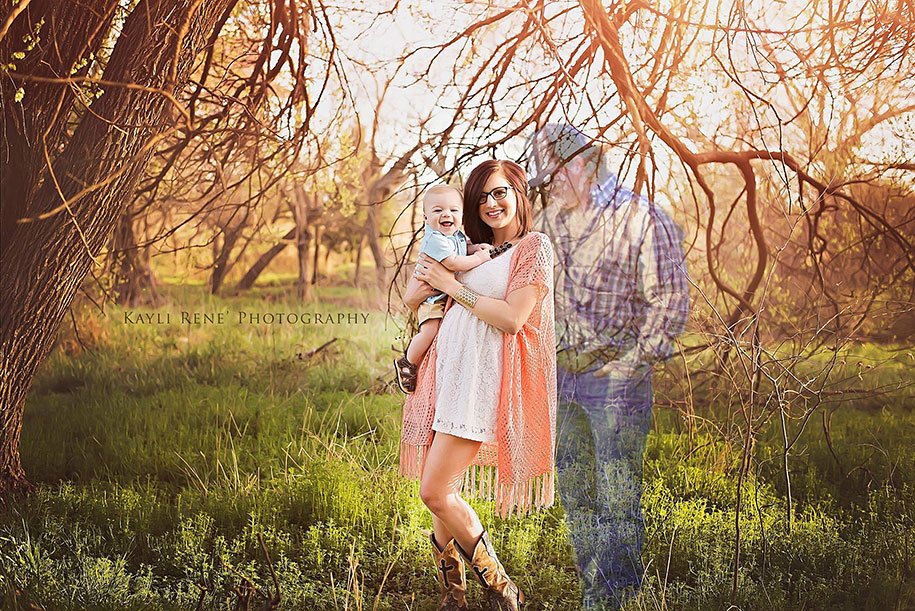 Craig Davies for Art-Sheep
In 2014 Sierra Sharry and Lane Smith were a happy couple expecting their first child. Unfortunately, weeks before their son was born, Lane died in a tragic accident.
The tragedy occurred in July 2014, on a day the couple was out on a jet boat race with Lane's family. The couple got separated as Sierra had to leave early due to the high temperature of the day combined with her advanced pregnancy. Unfortunately, Lane got into an accident and passed away.
After her son was born, Sierra asked photographer Kayli Rene to insert Lane into a photo of her and baby Taos. Rene chose a beautiful portrait of mother and son and photoshopped a "ghostly" contrast of a picture of Lane, next to them.
After posting the image on his Facebook page, Rene received hundreds of messages from people interested in similar projects, as well as general well-wishers. For her own family photo, Sierra said: "Thanks to Kayli I now have a picture of my little family. It brought me to tears as I know it will many if y'all. This is how I picture us. Taos and I living our lives the best we can with Lane ALWAYS watching over our shoulder."
via demilked