Agape Charmani for Art-Sheep
John Tierny is an artist based in England with an artistically intense love for Los Angeles.
Tierny's work is focused on LA's urban landscape, architecture, art scene and people, with his paintings strongly reminding one of works of Edward Hopper and David Hockney. Apart from LA, Tierny has featured in his work cities like New York and Helsinki, Finlad. The painter explores the sense of space through investigating both the natural and the distanced human presence in it. The atmosphere and feeling of a place are two very important notions for his artistic process and final work.
A significant part of the city's vibe and substance is the art scene. From scenes inside big museums to street art, Tierny reenacts the important imagery of art productions. The selected artworks below are a perfect example of the artist's exquisite painting technique and interesting selection of image shots.
"Photographs represent the raw material, a resource to be worked on and interpreted, in the process creating a new representation drawing on technique, use of color and composition. It's a bit of a cliché, but there is a difference between 'looking' and 'seeing'," states the artist concerning his own process.
This is Not Graffiti, Is It?, LA
Elvis is on the Building, Palm Springs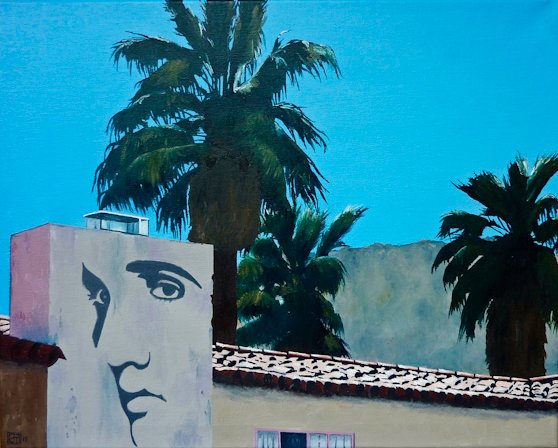 Kubrick Exhibition at LACMA
Bandit at LACMA
MOMA NY