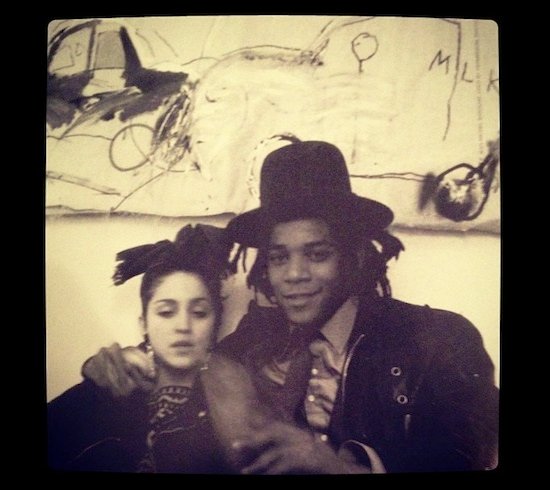 Agape Charmani for Art-Sheep
When Jean-Michel Basquiat was invigorating the oppressed art movement of street art, Madonna was an upcoming singer. After a couple of years, and while he was creating amongst, with and for the LA and New York's art elite, Madonna was still an unknown but aspiring entertainer, and they were together.
In 1982, the two of them had an affair the led to a fiery but brief relationship. Details about how they got introduced and started dating are hazy. While he was moving from graffiti-ing and the streets of Lower Manhattan to paintings and galleries, Madonna was trying to make it in the music industry.
Basquiat would often go to art events with Madonna and introduce her to artists and gallerists. As Larry Gagosian has admitted to Interview magazine, Basquiat was fond of his girlfriend. When he introduced Madonna to Gagosian, he told him that she was going to be "huge".
On the other hand, Madonna was more than smitten with the vibrant artist.
In an interview with Howard Stern, Madonna spoke about her relationship with Basquiat. Amongst the things she shared was the fact that she loved Basquiat. Even though she was in love with him, she hated that he wouldn't stop doing heroin, something that led to his death. The singer also talked about how positively influential he was on her,"I remember getting up in the middle of the night and he wouldn't be in bed lying next to me; he'd be standing, painting, at four in the morning, this close to the canvas, in a trance. I was blown away by that, that he worked when he felt moved."
Apart from a few photographs and Madonna's reminiscences , we don't have other records about one of the most unexpected and historical interesting, celebrity couplings. We can't tell for sure whether what brought them together was her hunger for entertaining and his passion for painting, but they definitely did look good together. Two artists, with a huge need for expressing themselves through their art, that probably shared some amazingly fun moments together.