Albert Sagan for Art-Sheep
All images courtesy of Olga Koutantou
This remodelled old pharmacy-turn-hair salon is situated in the posh district of Kolonaki in the centre of Athens and it definitely is a unique place to go and have your hair done. Its name is "Talkin' Heads" and is the creation of London-based architecture duo "Bureau de Change". The architects' design concept is a theatrical stage set. In this case, they follow a different route than that of a traditional hairdresser's interior. Renovating a two-level-split area of 50sqm, they use the main haircutting space as the "main stage" and the balcony as the "back of the house". The main attraction of this unique hair salon are the suspended wooden frames seen from the outside and as the customer steps in. The 130 picture frames respond to the movement of the people below by swaying lightly in the air. They come in different sizes and most them are empty while some of them have mirrors. They hang from the ceiling held in suspension by 1mm thick steel wires and are made of dark timber. Both their sides are glazed to maximize the distribution of natural light and the cutting stations are placed facing each other in the centre of the "stage", each with its own overhanging mirror. This arrangement encourages interaction between customers and hairdressers.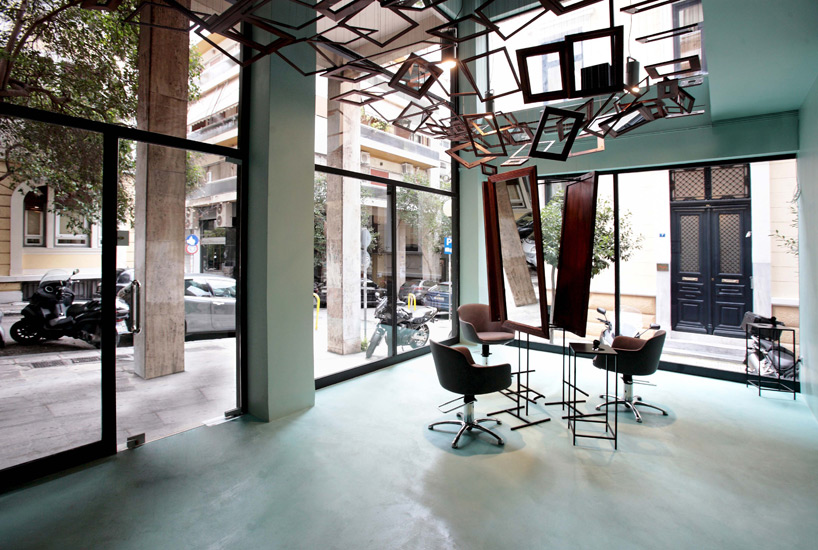 A lovely, minimalistic idea that is bound to make your hairdressing experience more fun than usual.
via designboom