First, they appeared on the streets and then on the fashion week runway… Smog masks are becoming a necessary accessory for the citizen of Beijing and other major Chinese cities. 
Text: Iliana Deligiorgi
Seeing people wearing masks to protect their health from the toxic air all over Beijing or Hong Kong is extremely worrying. However, seeing them now styling those smog masks is horrifying. Horrifying because you realise that all the more people are accepting that this is their life from now on, respiratory masks are a part of their everyday outfit and thus they are now personalising it. With the bad condition of the air not even letting you see things from a certain distance and beyond, people are making a fashion statement to actually make it through the day. Even if, as they say, they know that those masks aren't working as much as they should.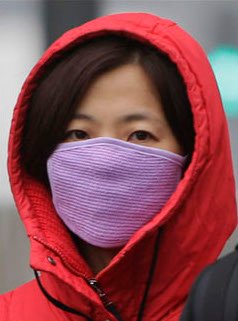 The Chinese fashion week wasn't late in catching up with this alarming 'trend' as it appeared on the streets around 2010. During the Mercedes-Benz China Fashion Week in 2014, The QIAODAN Yin Peng Sportswear Collection featured face masks for the stylish ones, commenting on the problem of pollution in the country. Since then, all the more new designers are including similar 'face covers' in their collections.