On the occasion of the ongoing "Fashion in the Ration" exhibition at the Imperial War Museum in London, here's a look on how fashion changed and adapted to the social situation of the 1940s.
Text: Iliana Deligiorgi
(Images: © IWM)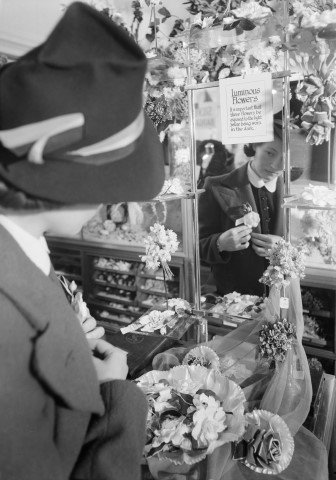 While fashion is probably the last thing one cares about during the hard times of a war, dressing was highly affected by the social changes of the World War II and adaptive to the new circumstances. With blackout buttons, more shiny or bigger than the regular ones, women and men tried to make themselves visible on the streets, as blackouts were frequent. For women that wanted to still feel fashionable even then, there were luminous flowers that were even more easily visible. Selfridges was the go-to department store for the ladies, even during the Second War. Apart from the creation of the uniforms, military equipment was as well used for everyday clothing; any resource available didn't go into waste. For example, there were bracelets made of aircraft components or dresses from silk RAF maps and destroyed parachutes, a type of 'forced' minimalism, which nonetheless resulted in modern and stylish creations.
Fashion during the war was also used as a propaganda tool. Blouses with slogans all over them, similar to the logo T-shirts of today, or even accessories with encouraging messages οn liberation or recycling, were part of the fashion of the 1940s. What is also interesting is that there were posters prompting women to continue taking care of their appearance, despite the ongoing situation, advertising war make-up or "lips in uniform". The casual and innovative clothes of the World War II led to the fashion liberation that followed after. Dior's 'New Look' in 1947 and the numerous examples of volume dresses, the Bar jacket and all those tads of fabric came as a creative reaction to all those years of ration clothing.
In the images below, you have a rare chance to observe street style during the world, posters and scarves with propagandistic messages, respirator bags, war lipsticks, women shopping for visible flowers at Selfridges and a bridesmaid dress made of parachute silk, among other interesting visuals: