Did you have the chance to smell Napoleon's military jacket as well?
Text: Iliana Deligiorgi
(Images: © Piero Biasion)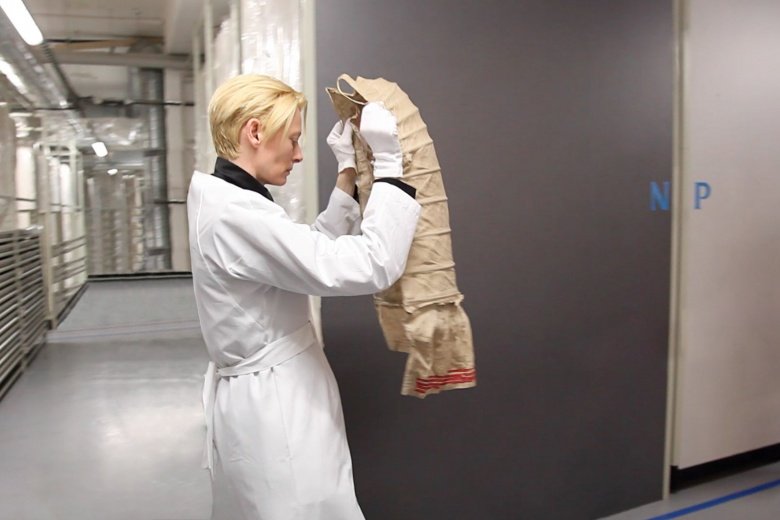 Back in 2012, starred in 'The Impossible Wardrobe", a performance that took place in Palais de Tokyo, Paris, for only three nights. Curated by Olivier Saillard, the 40-minute unique fashion event aimed to showcase the connection between fashion, history and memory. Tilda Swinton was the only performer, walking up and down the stage-runway, carrying clothes, accessories and garments from the 18th and 19th century, while she was wearing a muslin coat like the ones models wear in the backstage of a fashion show or fashion archivists do in some museums and archives too. Of course, she was also wearing gloves, so she wouldn't touch the fabric.
The British actress, carrying each piece of clothing with caution and moving really smoothly on the catwalk, had the chance to come as close as possible to 57 vintage garments of Elsa Schiaparelli, Christian Dior, Yves Saint Laurent and so many other famous fashion designers, all of them on loan from the Paris' Musée Galliera Archive. What is different with this performance is that Tilda Swinton was able to bring the clothes back to life, briefly attach them again to a person, rather than them being kept away in a archive drawer or simply laid out on a table.
Among the numerous beautiful and historically important garments, the Academy award-winning actress had the rare chance to touch one of Napoleon Bonaparte's military jackets, dated back in the early years of the 19th century. During the performance, Tilda Swinton brought the jacket close to her face and breathed the air of Napoleon's neck, smelled the garment to feel his presence around her.
"Maybe the most interesting thing about clothes is that people live in them and there's nothing else really to be said."
– Tilda Swinton
Take a look back in the performance through photographs published in 2012….