Athens Digital Arts Festival (ADAF) returns with its 12th edition at the historic center of Athens and invites you to its annual four-day meeting that takes place on 19 – 22 of May, at the Building Complex Gate Ermou 117 – 121.
Highlights
Manja Ebert (DE) | ALL EYES ON US (2014) | Interactive Installation
19 – 22 May 2016 | Building Complex Ermou 117 – 121

Britney Spears – everyone knows her. You love her. You hate her. But who is this girl – or what? Elbert followed this question and created the interactive video installation ALL EYES ON US, based on music videos of the entertainer, which present nine stereotypical female characters. In the installation, the nine figures stand side by side in front of a keyboard and can be played to engage in dialogue with each other. The viewer becomes a composer, who can rearrange and exploit these dancing shells and their messages.
KUFLEX (RU) | Quantum Space (2015) | Interactive Installation
19 – 22 May 2016 | Building Complex Ermou 117 – 121
Quantum Space (QS) is an interactive multiscreen video installation where panoramic projection immerses the viewers into the space of particles or quantums of light. Each time the viewer moves, an impulse occurs to create different images, which never repeat. The viewer is not just a simple viewer but he also takes part in a kind of a game. He is no more a human, but a shape of quantums, the guide and the resident of the world, which is settled through this special digital universe.
Adrian Flury (CH) | A place I've never been (2015) | Video Installation
19 – 22 May 2016 | Building Complex Ermou 117 – 121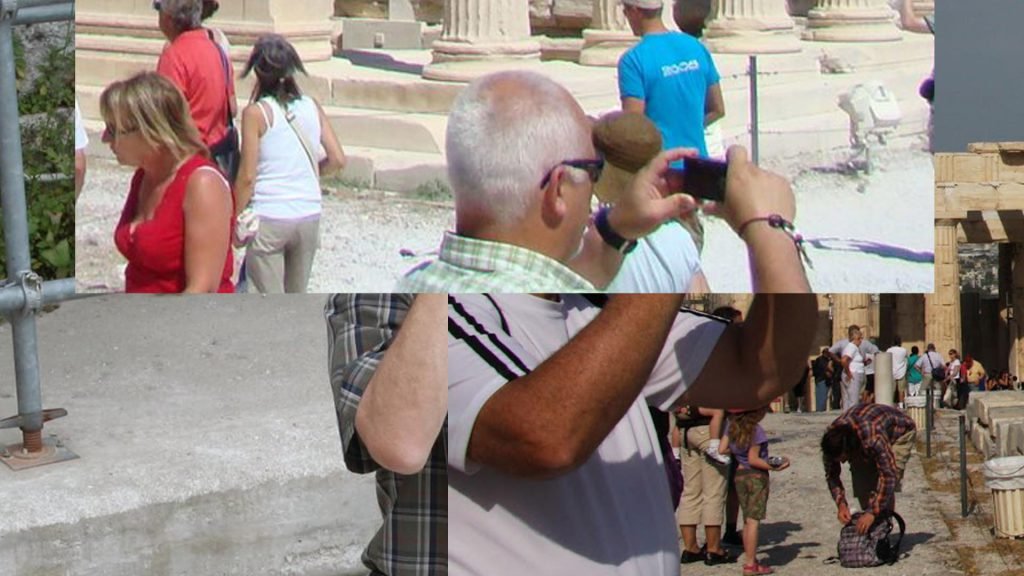 By sourcing multiple digital images of the same place from different archives, this experiment in film makes use of frame by frame montage to discover hidden forms, patterns and references thereby giving new meaning to the prevailing redundancy of these pictures. Because of the common practice of everyone who photographs this iconic place, it was possible to manipulate the geography of the space in all sorts of ways. The visual attributes such as resolution, sharpness, colour saturation and tonal values differ in each image, but when run together, they form one consistent constant impression.
Bram Snijders / Deframe (NL) | Sensible 1.0 (2016)| Interactive Installation
19 – 22 May 2016 | Building Complex Ermou 117 – 121
Sensible is an interactive media-installation. Sensible is about the ability to sense a virtual layer, constructed out of digital matter in a physical space. The essence of the installation is the virtual layer, which is a representation of x y z coordinates captured in a physical environment in real-time. The virtual layer consists out of real world x y z coordinates, translated into digital ones, highlighting the overlaying of the physical and digital dimensions. When an object or a person is positioned at the coordinates of the virtual layer (within the physical and the digital space), it will reveal itself in the manifestation of projected light. Sensible is the outcome of an exploration into modern technologies combined with applied open source knowledge and human interaction.
*The installation is supported by the Delegation of European Commission in Greece.
Bego M. Santiago (ES) | Little Boxes (2014) | Interactive Installation
19 – 22 May 2016 | Building Complex Ermou 117 – 121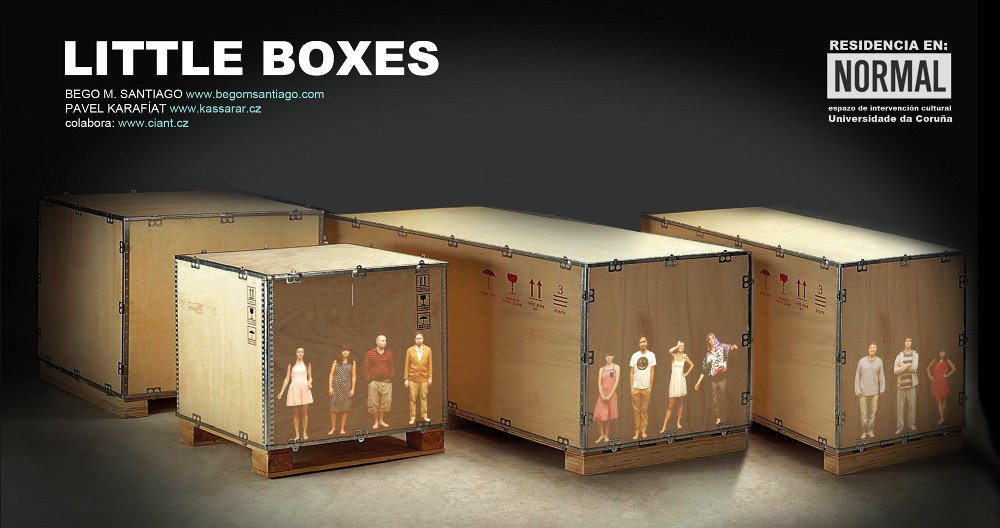 "Little Boxes" is a Kinect driven projection mapping (video mapping) art installation where tiny people projected onto wooden boxes are terrified of your presence. Even though they are all individuals who can move around on their own, they behave with a united mindset, always following the crowd. The interactive narrative has five different "responses" that the mini crowds could have towards the giant spectator. These include hanging out when no one's around, moving into a "fear area" when someone comes close, starting to run, hiding from a new "attack", and escaping in groups.
Gaybird (HK) | Fidgety (In Between Up & Down) | Sound Installation
19 – 22 May 2016 | Building Complex Ermou 117 – 121
Fidgety is a sound composition where Gaybird transforms his heartbeats into an audiovisual installation of 40 speakers, aiming to redefine the almost forgotten relationship between sound and movement and raising questions about the "representation" of emotions in art. These 40 speakers can be seen as a musical instrument, part of an orchestra through which a sound-kinetic composition is reproduced.
Carla Gannis (USA) | The Garden of Emoji Delights (2015) | Triptych Animation Installation
19 – 22 May 2016 | Building Complex Ermou 117 – 121
"The Garden of Earthly Delights", the most ambitious work of Hieronymus Bosch, embodies the conflicts, humor, darkness and absurdity of human, earthly and cosmological conditions. Gannis' intention regarding the transcription of this work in The Garden of Emoji Delights, was to mash up popular historic and contemporary sign systems, and to diversify and expand the Emoji lexicon. Emoji are a contemporary glyph system which offer an emotional shorthand for virtual expression.
Dries Depoorter (BE) | Scratch Tickets (2015)
19 – 22 May 2016 | Building Complex Ermou 117 – 121
"Scratch Τickets" are lottery tickets where people can win up to 25.000 followers for their personal Twitter or Instagram account. The work is a playful comment on the narcissitic reflection of the online identity constructed in social media. Depoorter purchased thousands of "fake" followers on Twitter and Instagram from one of the many shady companies that create bots for that sole purpose, and will unload them on whoever finds the winning ticket. There are about 1,000 tickets in total, and in addition to the 25.000 Followers Grand Prize —which Depoorter says hasn't been found yet— there are tickets yielding 100 and 1000 followers.
Karen Eliot (DE) | TheRealKarenEliot (2012 – ongoing) | Web Art
19 – 22 May 2016 | Building Complex Ermou 117 – 121
"TheRealKarenEliot" is an open account on Facebook. The profile picture shows the password, so everyone is invited to log in and be Karen Eliot. Since 2012, hundreds of people are using this account. Some do it for fun, some for advertising or promotion, some for political activism and cultural hacking. In this way, Karen's virtual self becomes a collective mind – Karen's statements, interests, opinions and Karen's circle of friends are getting mixed with those of others and therefore relativized. Join her! Open the gates of the digital Panopticon and log in: facebook.com/therealkareneliot.
Verba Manent (GR) | From the Pointer to the Thumb (2016) | Digital Image
19 – 22 May 2016 | Building Complex Ermou 117 – 121
The work refers to the golden age of the scroll of information or otherwise of the scrolling-morph information. "We represent the scrolling vision, the magnificent access and the zero memory. We are in the Scroll Down era and no one imposed it on us. There is a generator of popular culture (pop culture) or else pop generator and we are its proud, generic space as well as its intact victim- child.All new ideas tumble through a kaleidoscopic sequence of global pixels and they have been forgotten before their creators make a new version of them. We update pages and we simultaneously overtake them. Scroll me down to the end of hope."