Endorsement – Cobain's Converse #1 © Geoff Moore
by Maria Sofou
In 2008, photographer Geoff Moore was commissioned by the Estate of Kurt Cobain to document Kurt's most personal possessions. He was given exactly one day.
Moore's photographs were initially published in Charles R Cross' book COBAIN UNSEEN and on February 11 they will featured in large-scale prints in an exhibition entitled ENDORSEMENT at KM Fine Arts.
Moore's striking archive of Kurt's intimate belongings is a time capsule of an entire generation and a a treasure trove that offers the viewer further insight into one of the most prolific and complex artists of our time.
"Each image in Moore's "Endorsement" paints an awe-inspiring portrait of Cobain's varying interests as one of the most elusive artists to grace the stage. Some stand-alone images include: "Smash" depicting a broken guitar with hand-written lyrics penned by Cobain; Kurts Journals and last recordings, the infamous heart shaped box, various doll images that optimized Cobain's interest in human anatomy, and an image of a stuffed monkey holding a tambourine entitled "Kurt's Monkeys #1" illuminating his well known love for monkeys throughout his life."
Heart Shaped Box #1 © Geoff Moore

Tapes © Geoff Moore

Smashed © Geoff Moore

Nixon Now © Geoff Moore

Rock © Geoff Moore

Marionette © Geoff Moore

The Journals © Geoff Moore

Kurt's Guitar 2 © Geoff Moore

Madonna Box © Geoff Moore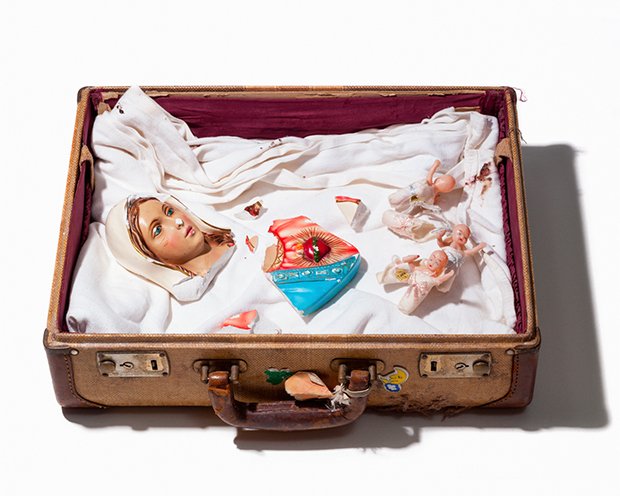 via Feature Shoot