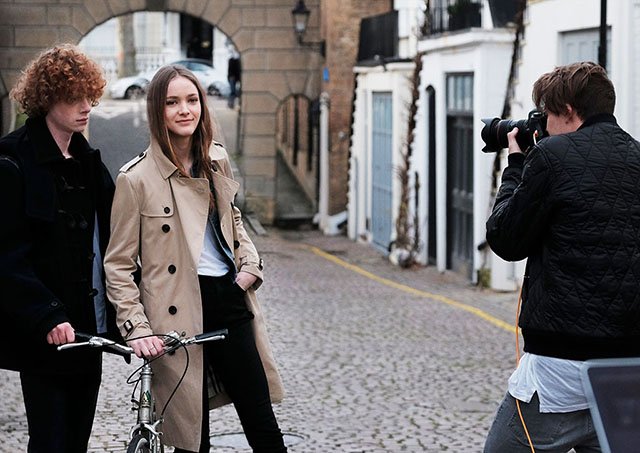 by Agape Charmani
David Beckham's 16-year-old son, Brooklyn, already has a career in photography and the reason why is pretty self-explanatory.
Beckham is the son of David and Victoria Beckham, power-couple, pop culture's royalty and successors to the British throne. And though we might be kidding on the latter, DVB has proven multiple times how they can basically conquer the whole world. The former Spice Girl is now a successful fashion designer and it looks like Brooklyn was inspired by his mom rather than his soccer-superstar dad.
Brooklyn is apparently into photography, especially fashion photography. He is into photography so much, that Burberry commissioned him to shoot their next fragrance campaign. And a millennial like Brooklyn, deserved the attention and live broadcast the shoot got, as this Saturday it was broadcasted live on social media, and had many people talking about it.
As the Guardian reports, Burberry's decision to hire Brookly pissed off many photographers. Fashion photographer Chris Floyd told the Guardian that in this case the apple actually fell too far from the tree, "David and Victoria Beckham represent sheer willpower and graft. Especially her, she's climbed that mountain all by herself. They represent hard work and then their 16-year-old year son comes along and it's sheer nepotism. He hasn't done it from hard work, which is counter-intuitive to what his parents represent," said Floyd. Brooklyn's parents are known for their ability to have risen to the top through their work, -let's be honest here, their relationship but most importantly through their admirable ability to create an empire on their own, and many photographers criticized the fact that he seems to be taking advantage of it.
Though many young photographers have actually managed to start their careers before their high-school graduation, Brookly Beckham is not one of those stories. His career didn't start the minute someone discovered him on tumblr or Instagram and was stunned by his talent in photography. His career started the minute he was born and unfortunately he has to work his butt off to prove he even deserves one.