Agape Charmani for Art-Sheep
Back in the 1960s there were only four words on every teenage girl's lips and these were, John, Paul, George and Ringo. One of these "words" though was taken long before these four boys became every girl's fantasy boyfriends.
Cynthia Powell Lennon was the first Beatle wife. Cynthia and John met in art school in 1957, while she was engaged to another man and he was in a relationship. His fiery personality and rebellious attitude amazed Cynthia who broke off her engagement and started dating John.
The couple married in 1962 just weeks before the Beatles recorded "Love Me Do." As the Beatles became a world-wide sensation, Cynthia had to pretend she wasn't John's wife. One of pop music's biggest icons couldn't be found to be married, as he would have to be available for every single one of his fans.
As their fame grew and the band had to tour non-stop, Cynthia stayed at home taking care of their newborn son Julian. "We saw very little of him," Cynthia said. "And when he did come home, he was so exhausted and so tired and so overwhelmed by the pressures of the outside world that … all he wanted to do was to collapse."
In 1968 John met artist Yoko Ono and the two fell in love. Cynthia and John divorced and he cut off contact with his her and his son. As Cynthia has mentioned in several interviews, she was never angry at him for leaving her for another woman, she was sad and hurt. Even though she married several times she never stopped loving and caring for John.
After John's assassination in 1980 Cynthia and Yoko grew closer. "I felt proud how we two women stood firm in the Beatles family," Yoko writes on her website after Cynthia's death on April 1.
Cynthia Powell was born in Blackpool, Lancashire, on September 10, 1939 and died on April 1, 2015. She was a singer, a songwriter and a designer. Even though she married four times, Julian was her only child. As she wrote on her last page of her book John, if she had had another chance, she would have lived differently.
Cynthia and baby Julian
Yoko Ono, Julian Lennon, Sean Lennon and Cynthia Lennon in 1989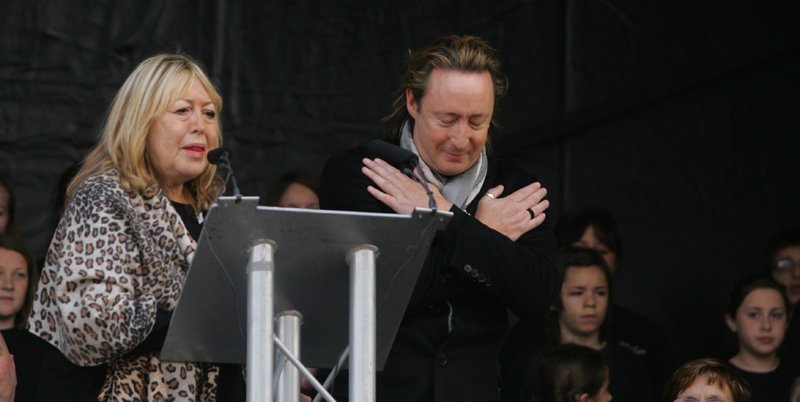 Cynthia and Julian Lennon at the unveiling ceremony of the John Lennon Peace Monument in Liverpool, 9 October 2010