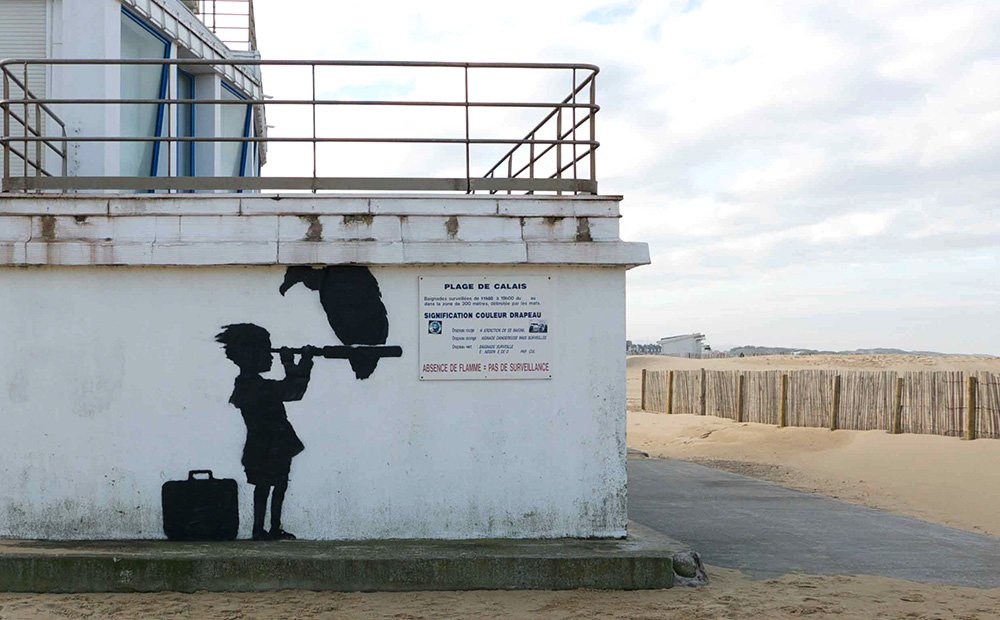 by Maria Sofou
After giving the building materials of his Dismaland bemusement park to create shelters for refugees "the Jungle" refugee campin Calais, France , Banksy visited the premises and created three staggering signature pieces in what appears to be an attempt to influence the world to be more accepting of refugees.
Most famously, the artist painted late Apple founder Steve Jobs in a shocking depiction as a Syrian refugee, carrying a black bin bag and holding an original Apple computer. The work is referring to Job's family background as he was the son of a Syrian migrant who went to America after World War II – Banksy himself explained: "We're often led to believe migration is a drain on the country's resources but Steve Jobs was the son of a Syrian migrant. Apple is the world's most profitable company, it pays over $7bn (£4.6bn) a year in taxes – and it only exists because they allowed in a young man from Homs."
Apart from this powerful work, Banksy created two more murals for Calais: the first, painted by the Calais beach, depicts a child looking towards England through a telescope with a vulture on it while the second is a piece inspired by Theodore Gericault's The Raft of the Medusa and shows a group of refugees on a raft waving towards a luxury yacht. Banksy's website captions the latter with a deeply powerful line: "We're not all in the same boat."
When art goes political, it can really make a change – and that's exactly what we are hoping for.