She started this just for fun and now she is a worldwide phenomenon!
PJ Linden can turn everyday objects into beautiful works of art using a type of paint that you might have used as a kid, puff paint!
Linden got her start working with Patricia Fields, creating custom, one-of-a-kind art and fashion under the name Wonderpuss Octopus. At Fields's iconic, namesake boutique Linden's work caught the eye of major celebrity clients including Beyonce, Willow Smith, Kelly Osborne, and Solange Knowles. Linden has since collaborated with and created pieces for Miley Cyrus, The Museum of Ice Cream, KidRobot, Norma Kamali, The CFDA, Alife, Sharon Needles, and Pearl Liaison. Her work has been featured in The New York Times, New York Magazine, Marie Claire Italia, Culture Magazine, Plastik Magazine and PAPER Magazine.
Wedding Boar 2018 20" x 27" x 12.5"
Blueberry Gator, 2018 3.25" x 7.25" x 3″
Cotton Candy Crawfish, 2018 11" x 14"
Pink Fairy Armadillo, 2018 12" round
Sprinkles Rebel, 2016 – 9.1 x 11.7 x 6.9 cm
Diamond Eye Magic Pelt, 2016 collaboration with Nora Kogan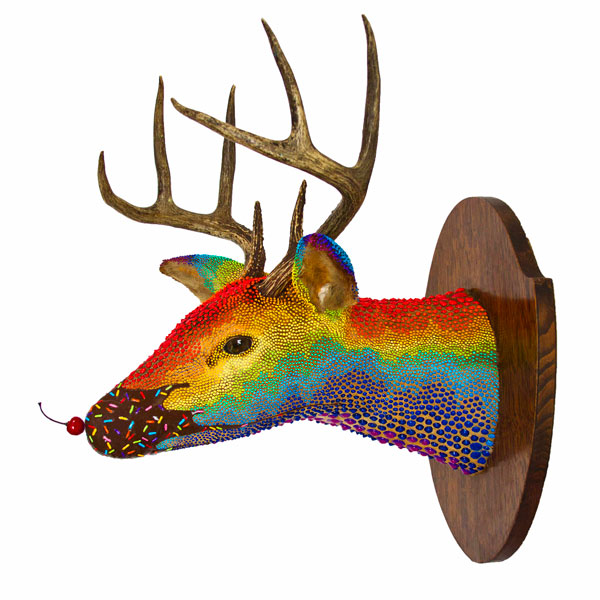 Sundae Stag, 2014 – 61 x 42 x 61 cm
Bloodshot, 2015 – 15.2 x 29.2 x 11.4 cm
Eggs:  2014 – 6.4 x 4.5 x 4.5 cm
Angry Fugu, 2014
Bones, 2015, digital photography 24 x 162 inches, 61 x 412 cm
Buddha, 2015 – 12.7 x 7.1 x 7.1 cm
© 2017 Copyright | PJ LINDEN | All Rights Reserved
PJ Linden Info : Instagram Website