Anna Randal for Art-Sheep
John Currin is an American artist well-known for his satirical figurative paintings that deal with provocative sexual and social themes.
His new works for his current show at Gagosian Gallery, are oil paintings that feature female figures whose beauty is strangely magnetic and their style historically inspired.
In his paintings the artist uses a unique sense of humor and borrows his themes from both high and low culture. His painting titled Maenads, references the groupies of the god of partying, Dionysus. The three ladies depicted on the painting tease the viewer with their sexuality and the suggestive symbols that surround them, while his style would remind one of Florentine Mannerist's, Pantormo.
via hyperallergic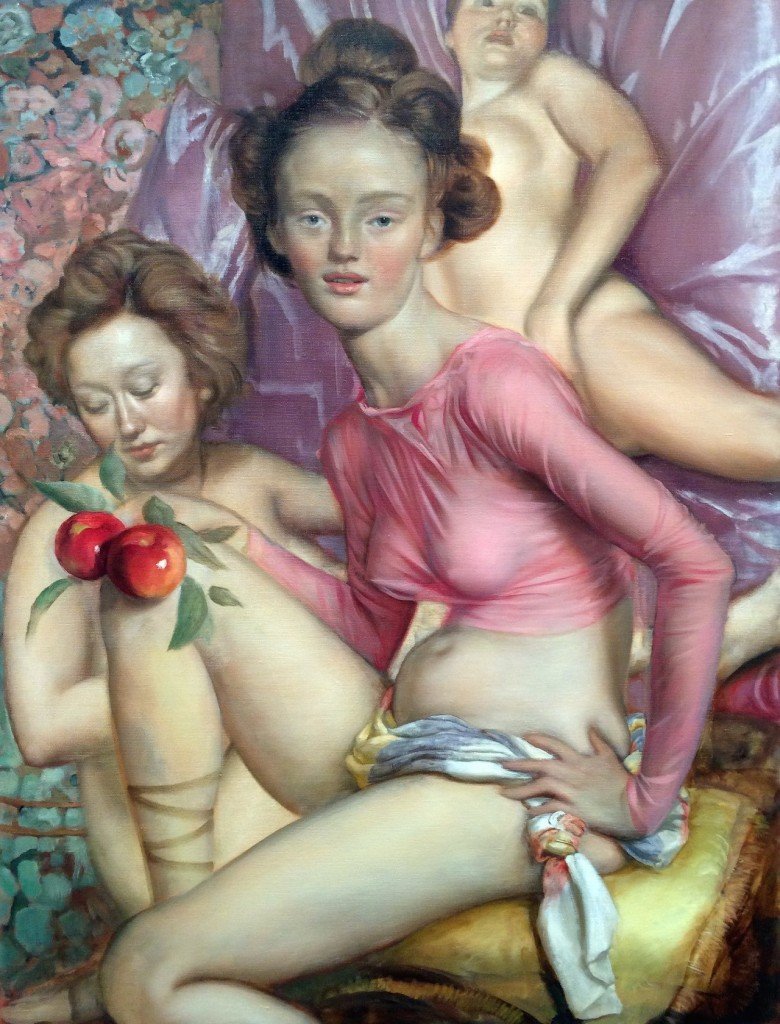 John Currin, Maenads, 2015
For his painting Nude in a Convex Mirror, the artist got inspired from another Mannerist, Parmigianino. The remarkble Self-Portait in a Convex Mirror was created when the famous painter was only twenty-one. He worked on a curved wooden panel, using a convex mirror's distortion to emphasize his pale, pinky-ringed hand. Currin's adaption is a painting of a woman's behind that is both beautiful and funny. The artist's work is focused on sensuality, but always depicted in a humorous and silly way.
John Currin, Nude in a Convex Mirror, 2015 and Parmagiannino, Self-Portrait in a Convex Mirror, 1524
In contrast, Currin's painting Altar, shows a woman suggestively placing her hand on her body. The soft-core eroticism in combination with the dated styling of the painting, create a satirical atmosphere with Currin self-criticizing himself and his work.
With Currin's silly sense of humor, his approach on the female figures is definitely sweet and innocent. Some would argue that Currin is just another male artist who objectifies women to serve his own purposes. Then again, it is important to realize that the artist's realistic view on his characters, is based on how he sees real women. As beautiful, sensual and funny creatures.
All images of Currin's paintings courtesy of Gagosian Gallery