Jonathan Stone for Art-Sheep
The Civil War is one of the darkest chapters in American History. A war that caused the death of approximately 700,000 people and severe injuries to thousands more, as the poor battlefield medicine couldn't be of help to many soldiers, who most of the times were being amputated, due to the lack of clean medical supplies.
The National Museum of Health and Medicine has uploaded a very interesting and educating collection of photos on its Flickr. This archive includes many portraits of veteran soldiers, either professional shots or shot for medical records, that focus on their injuries. Most of these photos are extremely gore, depicting serious and ugly traumas.
The war and life stories of these veterans are truly captivating. One of the gentlemen photographed below, Private. Samuel H. Decker, after losing both of his forearms during the war, designed a pair of brilliant prosthetics. "He receives a pension of $300.00 per year, and is a doorkeeper at the House of Representatives… With the aid of his ingenious apparatus he is enabled to write legibly, to pick up any small objects, a pin for example, to carry packages of ordinary weight, to feed and clothe himself, and in one or two instances of disorder in the Congressional gallery has proved himself a formidable police officer."
Sgt. Carlton H. Lovell, 14th New York Heavy Artillery. Wounded June 2, 1864 at the Battle of Cold Harbor, Virginia. Photographed by H. Hirschinger at 388 Bowery, New York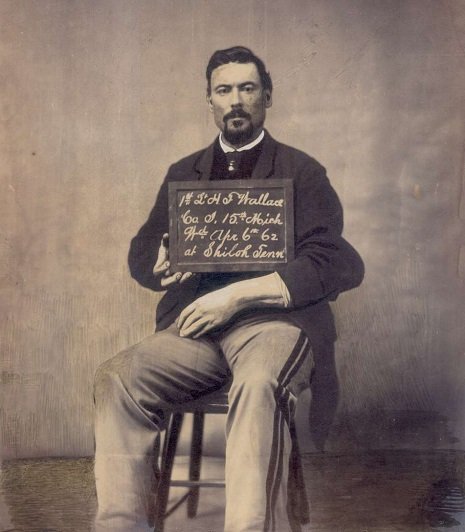 H. F. Wallace. 1LT, Company I, 15th Michigan. Wounded April 6, 1862 at the Battle of Shiloh, Tennessee
Thomas H. Mathews. Gunshot fracture of inferior maxilla & zygoma. CPL, Company I, 198th Pennsylvania Volunteers. Wounded March 29, 1865 at the Battle of Petersburg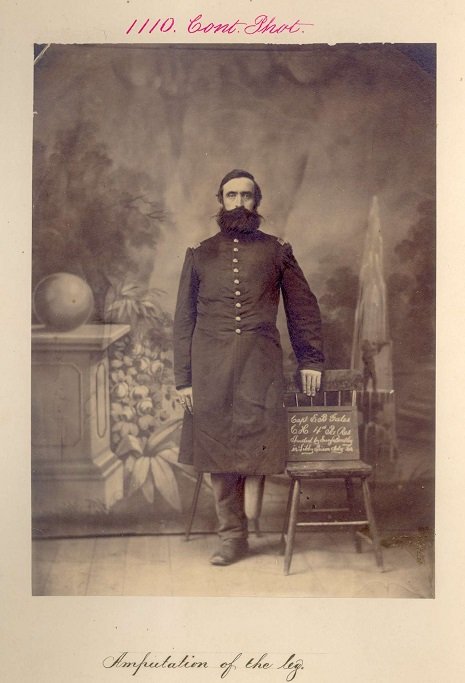 E. B. Gates. Amputation of the leg. CAPT, Company H, 4th Pennsylvania Reserves
Peter Shrup. Shell wound of left leg lower third fracturing tibia. PVT, Company B, 16th New York Cavalry. Wounded April 5, 1865 at the Battle of Fort Hell, Virginia
Pvt. Samuel H. Decker, Company I, 4th US artillery. Double amputation of the forearms for injury caused by the premature explosion of a gun on 8 October 1862, at the Battle of Perryville, KY. Shown with self-designed prosthetics.
Robert Fryer. Amputation of third, fourth, and fifth metacarpals. PVT, Company G, 52nd New York Volunteers. Wounded March 25, 1865 at the Battle of Hatcher's Run, Virginia
Jason W. Joslyn. Excision of head & 4 inches of shaft femur, prosthesis in place. PVT, Company I, 7th New York Heavy Artillery. Injured at 1864 Battle of Cold Harbor
Neil Wicks. Scabies of both legs, PVT, Company C, 4th US Colored Troops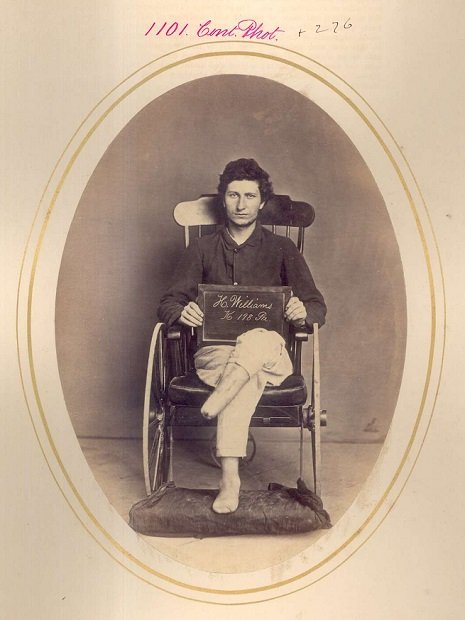 Hiram Williams. Amputation of leg and foot, shell wound. PVT, Company K, 98th Pennsylvania Volunteers. Injured at the 1865 Battle of Appomattox