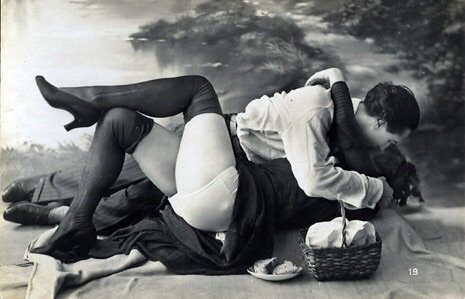 Craig Davies for Art-Sheep
How to you picture early 1900s porn industry? Of course there was such a thing! Well, it might not have been an industry, but it was definitely porn and definitely filmed.
One of the professionals of erotic photography and films was Czech photographer Jacques Biederer. The photographer, who began his career in 1913, in Paris, started with G-rated portraits and continued with more sensual themes, like nude ladies or couples during an erotic activity, using a regular outdoors spot or a carefully arranged set as his background. Even though his material was pretty acceptable in his time and he was able to make a living out of it, Biederer felt like taking the risk and exploring erotic photography a little bit more.
The photographer got into fetish photography, that involved some pretty scandalous poses. From the innocent practice of corseting to whips and domination, his photographs were for sure too sexy, but they were also taken as a result of the artist's need for artistic expression. The photographer didn't see his models as sex subjects, but he wanted to capture both their sexual presence and their emotions.
Some of the photos selected below are weird and humorous. The ladies depicted on his works are often the doms, while men are their slaves.
Biederer was captured when the Nazis occupied France during World War II'. He died in Auschwitz.