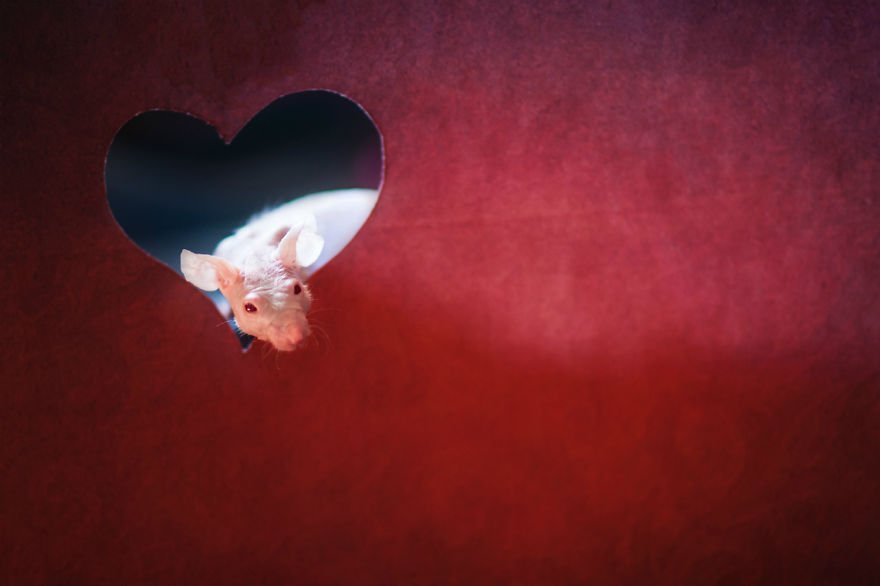 Rachele Totaro has two great passions in life; animals and photography. So imagine her excitement when she got to work with an Italian charity called La Collina dei Conigli, photographing animals that have been saved by the animal service. Rats, rabbits and guinea pigs, among others, were rescued before they were euthanized. Unfortunately, they were all born and bred as "test animals". Their lives inspired Totaro to help them find homes by photographing them in a "The Little Prince"-themed set.
"I've photographed some of the 34 rabbits, 146 guinea pigs, 952 mice and 226 rats lovely cared after by volunteers, and now those pictures have been featured in a wall calendar to raise funds for this stunning charity. For over 10 years, La Collina's volunteers have rehabilitated hundreds of ex-labs animals, until the final, priceless step: adoption and a serene new life with a loving human family. Just a small number was rescued from abandon or severe neglect. Most of the rescues had been used in labs for painful tests and without volunteers would have been euthanized at the end study; Italian law allows registered charity to rescue and rehabilitate them, and that's what La Collina does," explains photographer Rachele Totaro.
If yu believe you can help, you can contact the adoption service, La Collina dei Conigli, and learn more about the adoption process.