Cyrene she so thirsty
Apollon enlevant Cyrene, Frederick Arthur Bridgman / Mercy.1, GOOD Music ft. Kanye West, Big Sean, Pusha T & 2Chainz
–
Agape Charmani for Art-Sheep
Since the Internet took over our lives, many interesting, unique and shocking things have come to our knowledge. One of the things that my time on the Internet taught me is that, people have a lot of time to spare and the outcome of this situation is very often extremely enjoyable.
For young artists, the chance to show their work to the world has never been easier. And with this being possible, they can produce and exhibit extremely imaginative ideas, like combining art with hip hop music. And no, this is not an article for Jay Z and his obsession with Picasso, Andy Warhol or Jean-Michel Basquiat. This is about an artist duo, Gisella Velasco and Toni Potenciano, who according to their facebook page have formed "the best marriage on the internet".

Their Fly Art project merges famous Reinanescance, romantic, impressionistic, surrealist or even pop paintings with hip hop lyrics by artists such as Kanye West, Nicki Minaj, Beyonce and Kendrick Lamar. According to their blog, their work is "an homage to the finer things in life: art and hip hop". In their strange, yet superb, memes one can find Mona Lisa complaining about other people's basicness, Boticceli's Venus praising her own beauty and Vincent Van Gogh bragging about his swag.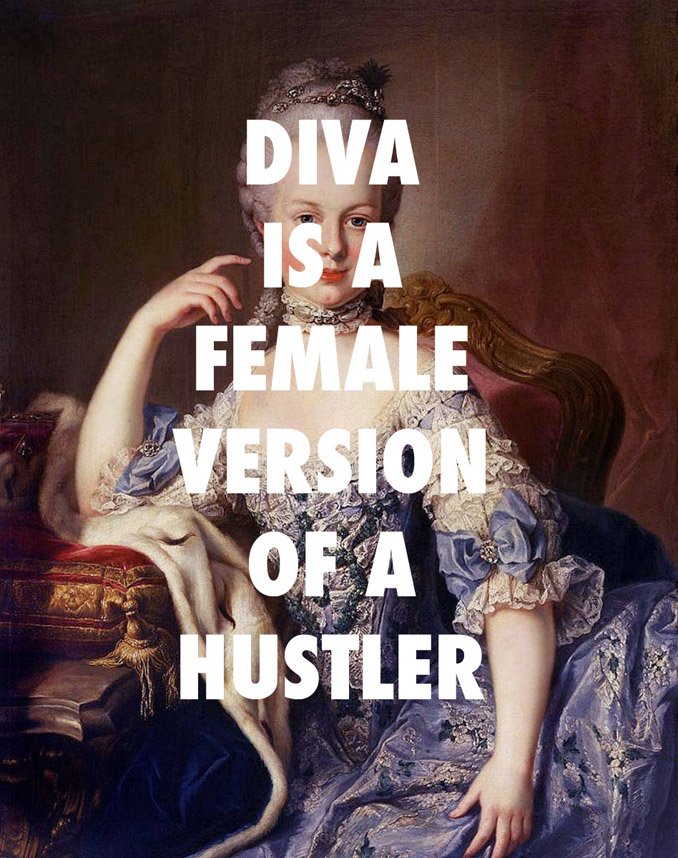 Tell me something: where your boss at?
Martin van Meytens, Marie Antoinette (age 12) 1767 / Diva, Beyonce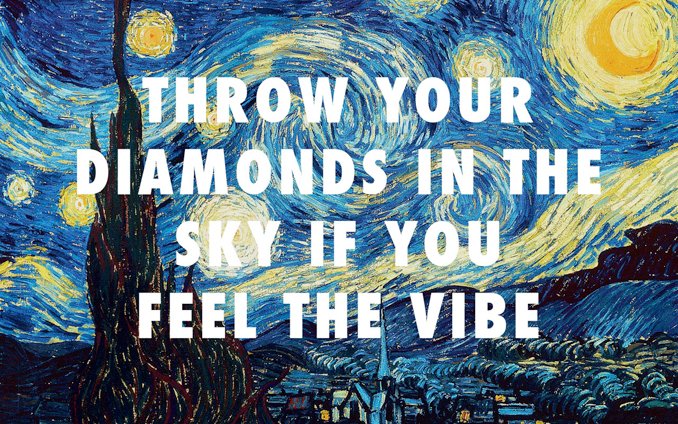 The starry night of Sierra Leone
The Starry Night (1889), Vincent van Gogh / Diamonds From Sierra Leone, Kanye West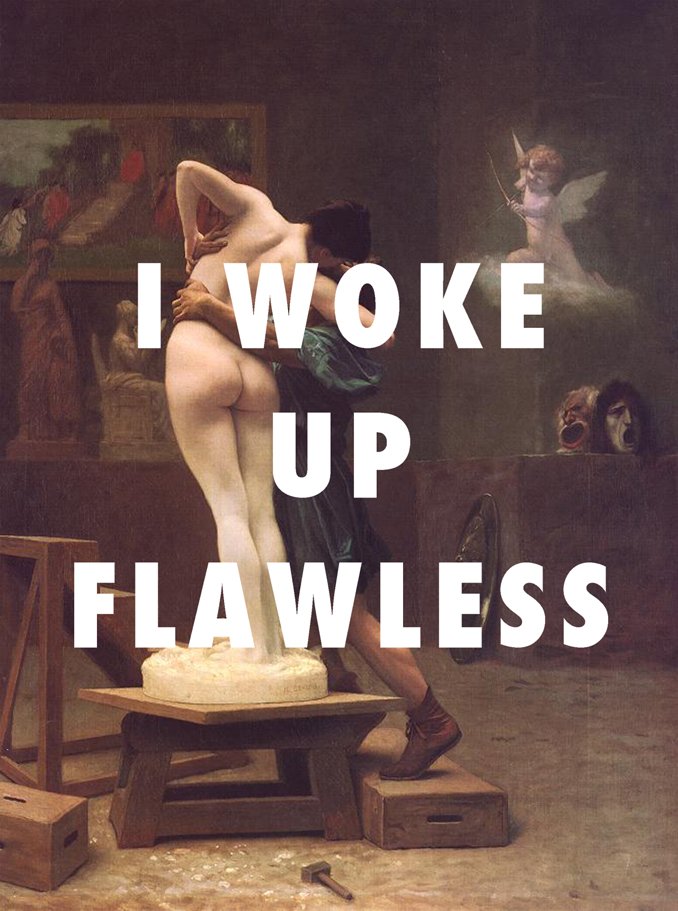 ***Galatea
Pygmalion and Galatea (c.1890), Jean-Leon Gerome / ***Flawless, Beyonce ft. Chimamanda Ngozi Adichie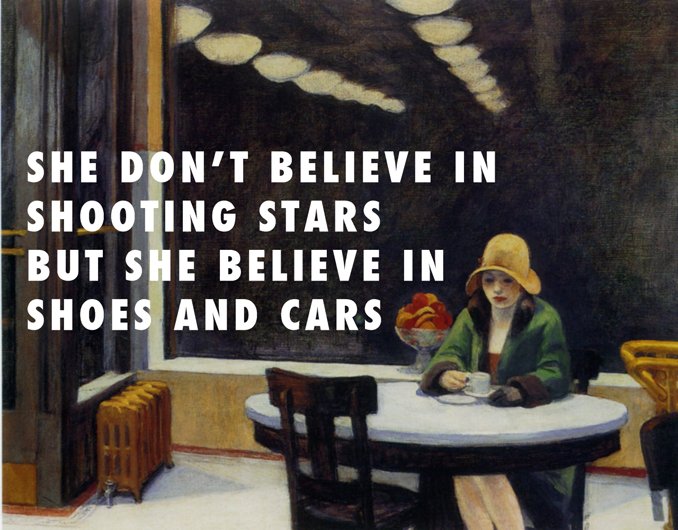 As I recall I know you love to show off
Automat (1927), Edward Hopper / Flashing Lights, Kanye West ft. Dwele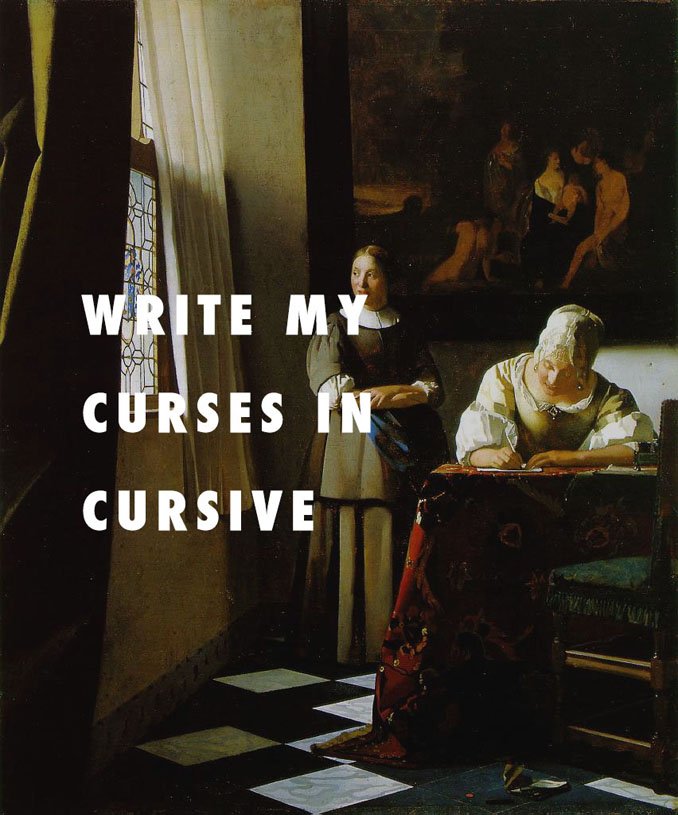 A lady writing a letter to Otis Redding
A Lady Writing a Letter, with her Maid (c.1670), Johannes Vermeer / Otis, Jay-Z, Kanye West feat. Otis Redding
Epicurean life, Aristotelian life, did i not mention i was about to lose my mind?
The School of Athens, Raphael (1509-1510) / All of the Lights, Kanye West feat. Rihanna and Kid Cudi with vocals by Fergie, Charlie Wilson, John Legend, Tony Williams, Alicia Keys, La Roux, The Dream, Ryan Leslie, Alvin Fields and Ken Lewis.
I can do whatever I want
Palay Maiden (1920), Fernando Amorsolo / Grown Woman, Beyoncé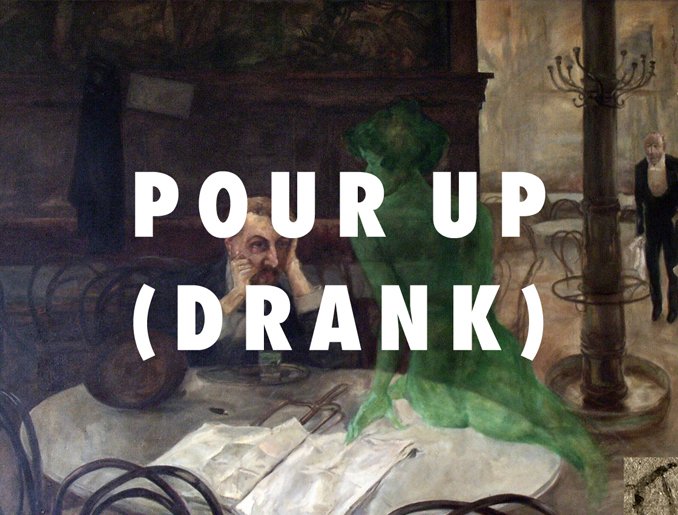 Nigga why you babysittin' only 2 or 3 shots?
The Absinthe Drinker (1901), Viktor Oliva / Swimming Pools, Kendrick Lamar
pound cake, upside-down cake, carrot cake, icing on the cake
Cakes (1963), Wayne Thiebaud / Pound Cake / Paris Morton Music 2, Drake ft. Jay-Z/Birthday Cake, Rihanna
Christ driving the paparazzi from the temple
Christ driving the moneylenders from the temple (1626), Rembrandt / Run This Town, Jay-Z ft. Rihanna & Kanye West
That truth hurts and the lies heal
Jeune homme à sa fenêtre (1875), Gustave Caillebotte / Take Care, Drake ft. Rihanna
TRUTH
Dancer (1914), Ernst Ludwig Kirchner / Otis, Jay-Z & Kanye West ft. Otis Redding
Hurry up with my damn creation
The Creation of Adam (1511-1512), Michelangelo / I Am A God, Kanye West
Dante and Virgil in the Gangsta's Paradise
Dante and Virgil in Hell (1850), William-Adolphe Bouguereau / Gangsta's Paradise, Coolio
She asked me:
La Robe du Soir (1955), Rene Magritte / Heat of the Moment, Drake