For anyone of us a hospital is not a place we want to spend time at, one way or another. Although they offer care and provide for their patients, they lack…colours. The vividness colours give, is unique. Especially when it comes to children's hospitals, colours is a key factor which can cheer them up a little bit.
And at that point we welcome Art.
The Royal London Children's Hospital welcomes about 40,000 children each year and not only from London. Artists and designers have been recruited by the hospital in order to embellish its walls with shapes and cartoons and therefore bring happiness and joy to all patients and guests.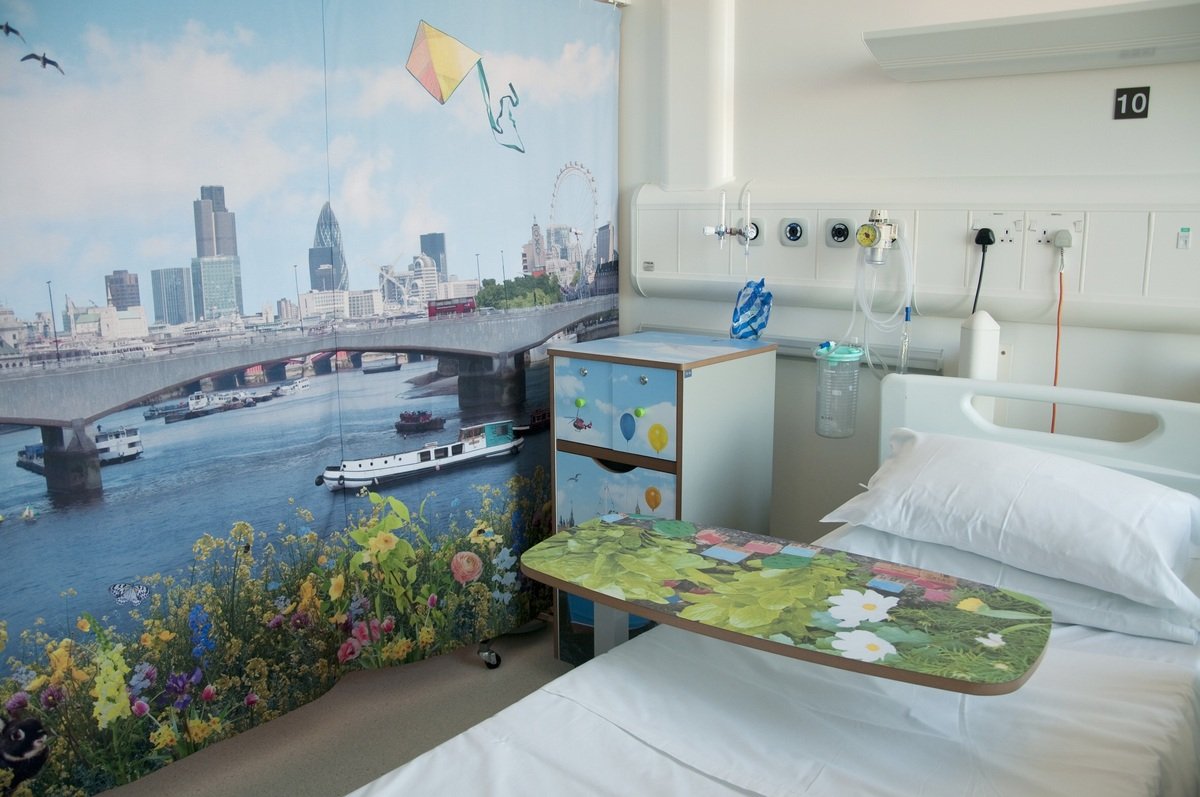 The hospital is collaborating with Vital Arts organization on a project titled: "A World Away From The Ward".In that project, artists and designers paint 5 different wards giving their characteristic signature in 3D, colours and light.Some of these artists are surface and textile designer Ella Doran, wooden toy designers Zoe Miller and David Goodman, children's author, illustrator, and rug designer Chris Haughton, textile artist Donna Wilson and product designer Tord Boontje.
Vital Arts explains on their website.: "Art has proven throughout pediatric hospitals all over the world, to be an invaluable aid for staff in either distracting children, or positively engaging children receiving sometimes painful and frightening treatments by supporting the individual needs of each patient.Through consultation with medical staff and patients Vital Arts have commissioned artists and designers that showcase dynamic design whilst meeting the patient's needs."
Every artist is unique and there is a wide variety of style and a diversity of techniques depending on the angle each artist sees things.Miller and Goodman bring their wooden toy collection "PlayShapes" to life in a geometric safari , Haughton covers the lifeless walls with main characters from his favourite children's books "Shh! We have a plan" and "Oh No George," while Wilson unfolds scenes from the countryside with snow-capped mountains, hills and a lot of greenery to make the walls sprinkle bliss all over the hospital.
"One of the most important things for me was to make the hospital not feel like a hospital," Wilson explained. "I wanted the patients, parents and nurses all to feel relaxed, happy and stimulated by the environment that surrounds them and by using design you can lift the mood and well-being of the people there. I've enjoyed seeing and hearing the reactions of not just the children but the parents too who are so pleased that the ward feels happier, colorful and less sterile and intimidating. This makes it so worthwhile and hugely rewarding for me as a designer."