Julia Horeftari for Art-Sheep
Greetings, my brave reader.
Sonia Delaunay (1885-1979) was an essential presence in the Parisian avant-garde, who evolved into Europe's master of abstract art. A Jewish-French artist who, along with her husband, painter Robert Delaunay, and others brought the Orphism art movement into being, famous for its use of geometric shapes and robust colours. Delaunay was an active artist from the early 20th century up until her death in 1979; she painted, designed fabrics and clothing, ran shops and a textile design company and worked together with masterminds of poetry, like Blaise Cendars (La Belle Époque), Tristan Tzara (DADA), Guillaume Apollinaire (Surrealism) who were also her close friends along with Kandinsky and Chagall. Moreover, this highly dynamic and modern woman was multilingual, danced the tango, experimented with gender, translated Kandinsky… all in all, she was insuperable.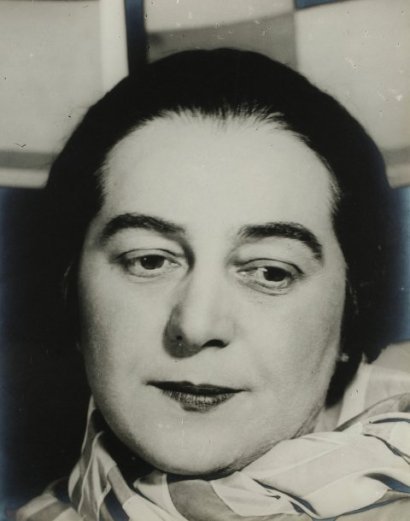 Now, Tate is hosting the first UK retrospective exhibition to honour this key-figure of abstract art and, of course, her works. Among the pieces on show, there is a short colour film (1925) which features models sporting fashion designs made by Delaunay and in the final scene she is shown sitting and smiling, in a flux of bold stripes, colourful grids and dynamic zigzags. What's also very important regarding this particular exhibition is that it is part of Tate's under-sung female artists project which takes place all throughout 2015 and it will be one of the two solo shows to be hosted simultaneously by Tate Modern in its two main exhibition spaces for the first time.
"The EY Exhibition: Sonia Delaunay" opens tomorrow, 15th April, at Tate Modern, and will last until 9th August. So, if you're in London during that time, my brave reader, do drop by and offer yourself an unforgettable art experience in one of the world's best galleries.