Agape Charmani for Art-Sheep
Ale Giorgini is an Italy-based artist who has worked for global brand names such as MTV and Emirates. His unique design became known to the world a couple of years ago,with his series of movie and TV show illustrations.
Game of Thrones
Star Wars
The creative artist, who is famous especially for illustrating the most successful movies and shows, seems to breath pop culture. Giorgini really knows how to translate every single characteristic of his fictional protagonists, as even though they are strangely illustrated, one can immediately recognize them. In his works one can notice a similar pattern, as his minimalistic and abstract style gives them a notion of similarity, despite the fact that every poster is different.
In his 2013 personal project about love, Giorgini brightly portrays famous close relationships. His set of illustrations titled, That's Amore!, is a take on various iconic couples, both real and fictional. From John Lennon and Yoko Ono's famous hug for Rolling Stone's cover to Batman and Robin, Giorgini's designed duos -or trios, consist a series dedicated to love and its various and different forms.
Through his basic but strong style, the artist creates adorable cards about love and the many ways it can be expressed, drawing the attention of every geek and pop culture addict.
Fly me to the moon
You are the sweetest thing
You are my queen
Faster than the wind
Play it again
Madly in love
The Pow! of Love
We will sail away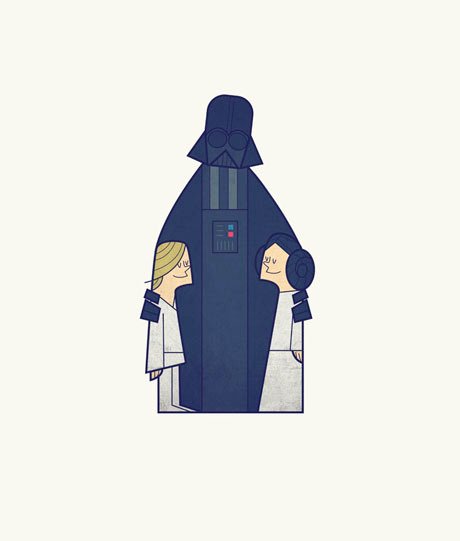 May the love be with you
Home is where you are
Upside down love
Give love a chance