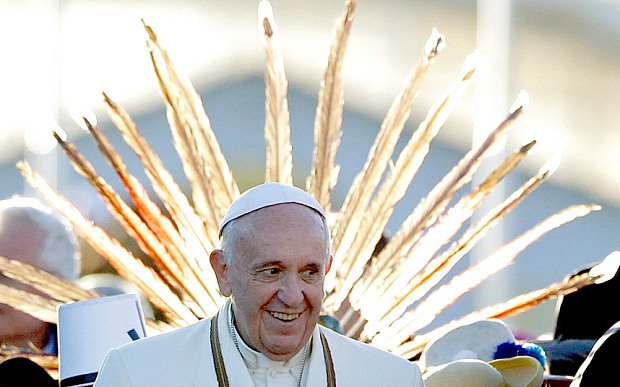 Craig Davies for Art-Sheep
Catholic commentators have been in uproar after left-wing Bolivian President Evo Morales presented a crucifix sculpted in the shape of a hammer and sickle to Pope Francis.
This unique gift that combines Catholic and communist symbols, is thought to have taken the Pope by surprise, while many differing interpretations of what Pope Francis thought about it are circling the internet. The crucifix is actually based on a design by Luis Espinal, a Jesuit Priest assassinated by right-wing militia, in 1980.
"The sickle evokes the peasant, the hammer the carpenter, representing humble workers, God's people," explained Bolivia's communications minister, Marianela Paco on the Bolivian radio, while according to the Vatican spokesman, Federico Lombardi, is very likely that the Pope expressed surprise at the origins of the gift.
Bolivian Bishop Gonzalo del Castillo, was quoted by the AFP news agency to disagree with the content and the presentation of the gift. "This is a provocation, a joke," he said. Social media have been also on fire, with the page of the Catholic News Agency drawing many furious commentators, with one of them pointing out that, "One cannot simply combine Communism and Christianity!"
Some others have been more positive towards this gift, defending the history behind its content, "This is no insult to Pope Francis, this is in memory of the Jesuit Martyr, who died defending the poor and oppressed of Bolivia."