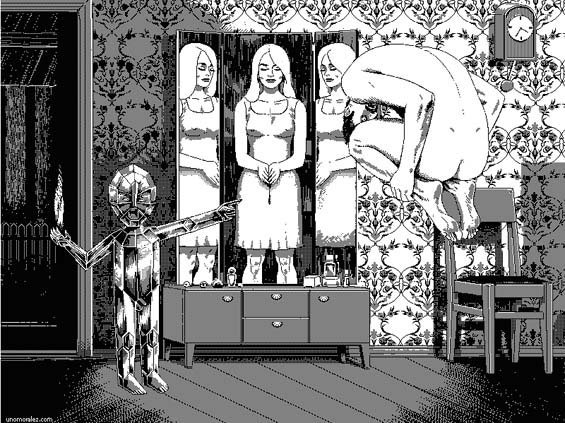 Uno Moralez is a Russian artist who apparently has a thing for sex, mystery and… pixels!
Apart from his work in  movies and advertisement, Moralez is famous for his dark, often horrific illustrations, depicting strange scenes and, even more bizarre, characters. His sexually-charged, provoking images are just a peek into Moralez' big imagination. His scenarios in combination to his unique technique come to life through illogical situations. An erotic atmosphere that draws the viewer to peek through the keyhole, but does not become enjoyable to him as the pixelated images of Moralez' doesn't make sense to him.
"Does it mean that erotic nightmares regularly strangle me, and that is reflected in my art? Of course not. In sexual passion I see an irresistible force, in front of which most people, even very strong ones, appear as helpless victims. There is something diabolic in it. Passion is a fire. This symbol seems very suitable for passion, and I use it very often myself," he explains in an older but fascinating interview with The Comics Journal.