Low-rise pants may be long gone by now, but in 1993 they didn't even exist yet.
Text: Iliana Deligiorgi
(Images: © Alexander McQueen)
For Lee McQueen fashion wasn't just about the making, not that he wasn't an excellent designer and tailor, of course. His clothes always spoke his mind, his past and his present, his ideas of the world in the most beautiful and anarchist way. However, almost nobody knew about all of that in the beginning of his career, when with his first post-graduated collection, titled 'The Taxi Driver' for A/W 1993, he shook the fashion world with his low-cut trousers that exposed either just a bit of the bum-crack or in other cases a bigger part of it.
While there were many rumours about the inspiration behind his design, including one about builders' bums, in an interview for The Guardian in 1996 Lee McQueen himself stated: "it wasn't about showing the bum…I wanted to elongate the body, not just the bum. To me, that part of the body- not so much the buttocks, but the bottom of the spine- that's the most erotic part of anyone's body, man or woman." His 'bumsters' included in many collections after 1993, such as the "Highland Rape" show for A/W 1995 were meant to inspire the British street fashion for years to come.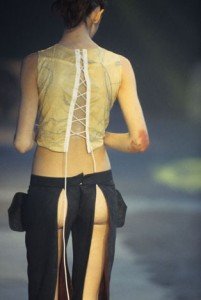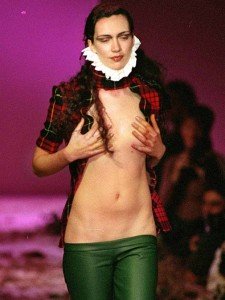 Would you wear it now?