Agape Charmani for Art-Sheep
Are you one of those people who wish they were born in the olden days?
Well, do you actually know what the first decades of the 20th century were like -apart from being the dark ages of technology? They were a whole other world, a world in which people where permitted to do things according to their skin color and women were a subject to male oppression and abuse.
It doesn't sound so different than our years? It actually doesn't! The only difference is that now, ads like the ones from the list below would never ever be published.
Enjoy!
–
1. This guy is chilling on a director's chair, typing his thoughts on a piece of paper, while his wife is probably doing stuff he could be doing as well -since the setting looks like they just moved in. Not only is he sitting down, he also orders the woman to pour him some scotch, and since she is "at it" she is allowed to go and join him. The dog obviously looks confused, tired with everybody's bullsh*t and puzzled as to why his idiot of a boss wears his sunglasses while typing.
2. So, not only women look "cute" only when they work, but the harder they work for their men and their houses, the cuter they will look. And if they do get tired from it, they should just get vitamins. Thank goodness they can get vitamins and they don't have to stop cleaning, cause they'd get ugly.
3. This is probably the epitome of body shaming and insult. According to this, women should wear girdles in order to shrink their hips -like this is even possible. Cause having "too much bottom" is not a shape for a girl. Is it a shape for a guy then?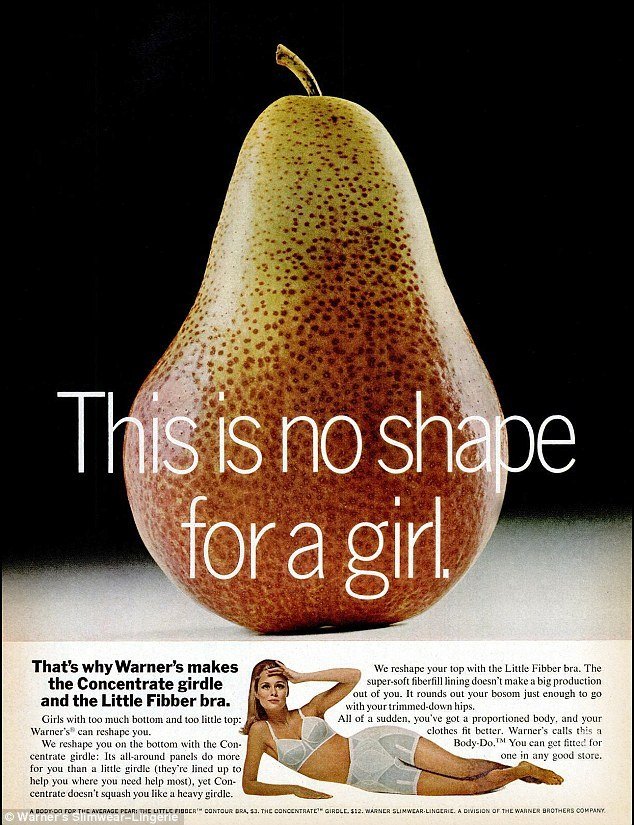 4. Okay, this is sexist on so many levels, I'm pretty sure we can find even more! Apart from comparing women to desert (!), these cream-filled "sno-balls" actually look like breasts. And did I mention they are also cream-filled? Oh yes I did.
5. I'm not gonna comment on the title -even though it could be a pun about domestic violence, but according to what this ad says, women have more chances on keeping their men if they serve them this precooked pizza. Not to mention their bigger chances at getting something else out of the oven as well.
6. I just love how this lamp has the power of treating depression, which is apparently caused by being ugly or not having the right lamp to look yourself in the mirror. Either way, beauty is the key to happiness and mental stability.
7. A perfect ad for reenacting the eternal stereotype of the dumb blonde maid, who at least knows what scotch to serve.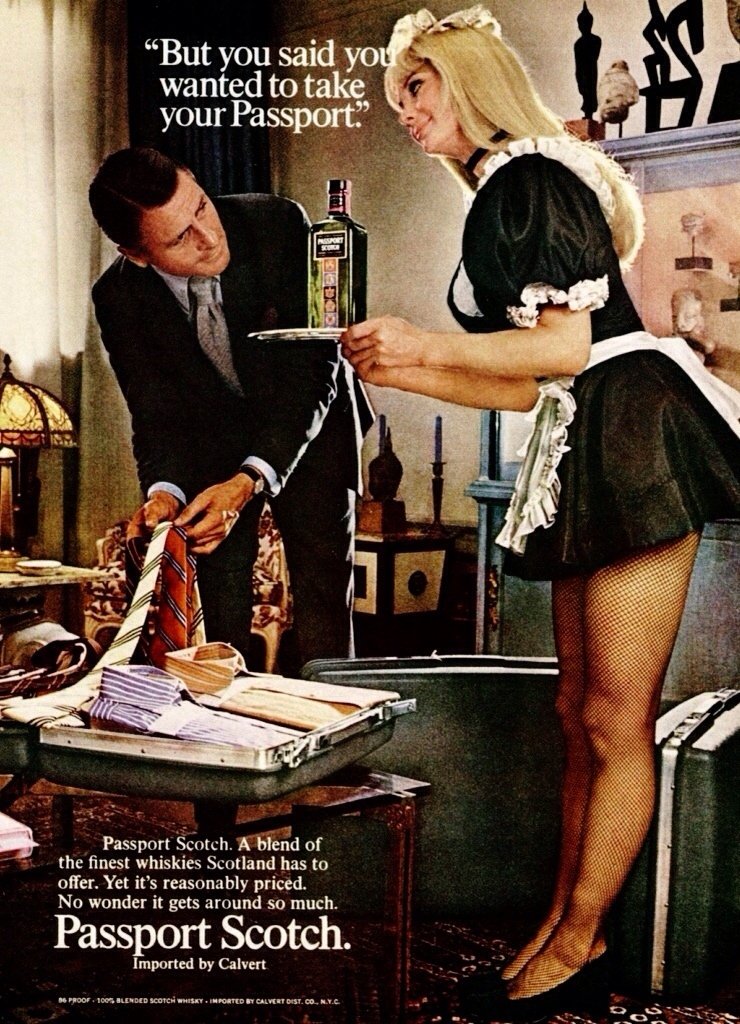 8. A dad that doesn't approve of his daughter's make up. An ad that presents the father as an oppressor who doesn't want a daughter with the wrong lipstick on her lips and points at her in an aggressive way.

9. This is probably my favorite "sexist vintage ad" as it stands as a historic inference. Apparently women were not allowed to fly in the 60s. And even if they were, they would only serve the food. Airlines made food only for men.
10. No, the ad from the world where women are not allowed to eat during flights is not my favorite. This one is!
Thank goodness for this hospitality set -what the heck is a hospitality set anyway, that freed women for slavery! Women don't have to miss out on the fun and can from now on enjoy a party -I thought people threw parties mainly to enjoy them, as with a little help from this hospitality set they can now serve their guests faster.
(Not to mention the audacity the white people who made this had, to use the words "party" and "slave" in the same sentence)